Vacuum emulsifiers are widely used in the mixing process produced in the pharmaceutical industry, such as ointments, preparations, gels, suspensions, etc. Why use vacuum emulsifiers for these products? What are the advantages of vacuum emulsifier equipment in pharmaceutical production?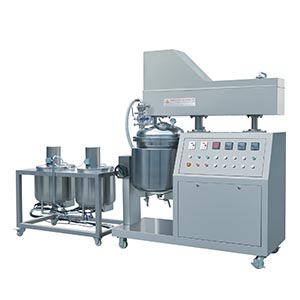 1.The emulsification tank uses a fully enclosed vacuum system. This allows the material to be homogenized, emulsified, heated and dispersed in a vacuum environment to reduce the contact of the material with the outside air. It can meet the requirements of hygiene and sterility.
2.The structure is a concentric double axis. The agitator and high-shear emulsifier can operate independently. Such a structure has a good emulsification effect.
3.For high-viscosity materials, it is a cream type, and a scraper is installed on the agitator.
4.Hydraulic lifting. The emulsifier can be turned over. Easy to discharge, maintain, and clean.
5.It conforms to GMP specifications and can be configured with CIP and SIP systems.