The vacuum homogeneous emulsifier is a kind of cosmetic equipment, but due to the development of science, the production technology has been continuously innovated. The vacuum homogeneous emulsifier is not only used in the cosmetics industry, but also in many industrial production fields. Let's follow the editor of YeKeey, a professional emulsifying machine manufacturer to see what products can be produced by the vacuum homogeneous emulsifier.
Vacuum Homogeneous Emulsifier  Application
From the scope of application, the emulsifier can be used in a wide range of liquid products. For products with low viscosity, the emulsifier can handle them easily, and you don't even need to turn on the homogenization function. You only need to mix, and even two-way mixing is sometimes a bit wasteful. To be precise, it is a bit overkill, and the price of the emulsifier is not cheap, and there is no need to use such a piece of good equipment. Ordinary stainless steel mixing tanks can be used for products such as lotion. But for products with a certain viscosity, it can only be produced by a vacuum homogeneous emulsifier.
The emulsifying machine widely used in producing food sauces
Food sauces, such as salad dressing, mayonnaise, custard sauce, etc. The function of the emulsification tank of vacuum emulsification equipment is to dissolve one or more food materials in another liquid phase and make the combination into a relatively stable emulsion. Therefore, it is widely used in the emulsification and mixing of edible oils, powders, sugars, and other raw and auxiliary materials.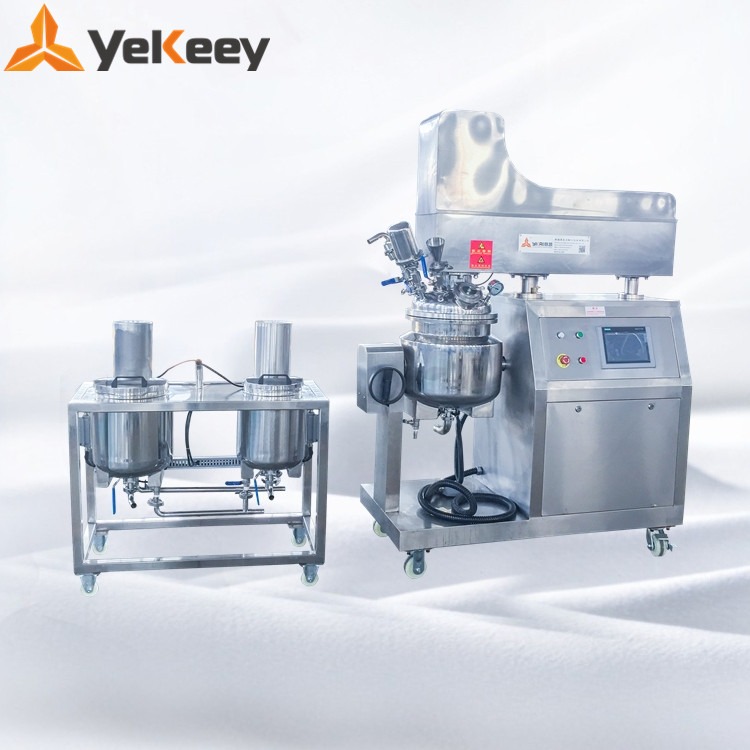 The emulsifier in the chemical industry
In the chemical industry, some ink coatings, paint emulsification, and dispersion also use vacuum emulsification tanks, especially suitable for mixing and emulsifying some insoluble colloidal additives CMC and other raw materials. The emulsifier is ideal for producing cosmetics, medicine, food, chemical dyeing, printing, ink, and other industrial products. It is more effective, especially for the emulsification of materials with high matrix viscosity and relatively high powder content.

High-shear vacuum homogenizing emulsifiers are widely used in the field of cosmetics
In the field of cosmetics, high-shear vacuum homogenizing emulsifiers are widely used in cosmetic creams, shampoos, shower gels, sunscreens, and other cream products. The emulsifier performs high-speed shearing, dispersion, and impact on the material through the high-speed rotation of the homogenizing head connected to the engine. In this way, the material will become more delicate and promote the fusion of oil and water. The material will be mixed with air during the production process, which will cause the product to become air-bubbled, bacterially polluted, easily oxidized and the appearance is not smooth. This situation will not occur when using a vacuum emulsifying machine.
It will disperse and emulsify evenly in a vacuum state, and air bubbles are no longer mixed in the process of production and mixing, so it can ensure the cream is delicate and stable.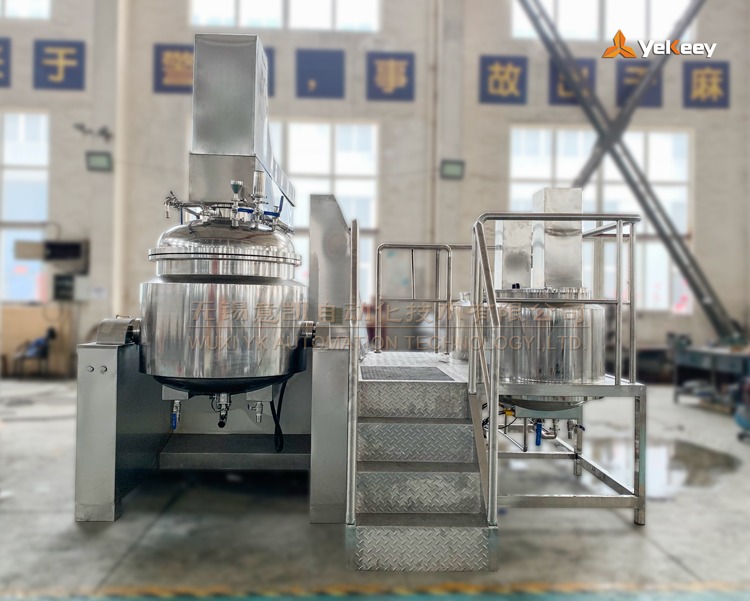 Yekeey
YeKeey vacuum homogeneous emulsifier is easy to operate, has stable performance, good homogeneity, and high production efficiency. Moreover, this equipment also has the characteristics of convenient cleaning, reasonable structure, and a high degree of automation. YeKeey can also provide customers with the service of sending materials to the factory for test machines. If you have a demand for a vacuum homogeneous emulsifier, please consult YeKeey.