The relevant staff of YeKeey checked the recommended formula in the above guide and found that the basic ingredients exceed 2/3 of alcohol (96% ethanol or 99.8% isopropanol), hydrogen peroxide (3%) and sterile distilled water, and viscosity thickener: glycerin (98%). In addition, there is another thickening agent carbomer that can be used instead of glycerin, but carbomer ingredients have been proven to have a high viscosity, and manufacturers face additional challenges when mixing hand sanitizer. To keep the viscosity within a controllable mixing range, glycerin can be used as a thickener to keep the viscosity below 2000 cPs. Carbomer as a thickening agent can increase the viscosity to 5000 cPs or higher, but this is not a problem for YeKeey's external circulation vacuum bottom homogeneous emulsifier, it can easily deal with 10000 cPs gel hand sanitizer dispersing, stirring and homogenizing treatment. The main requirement for the mixing process of the gel hand sanitizer is to make the alcohol content in the hand sanitizer/gel> 60% to 70% and mix it evenly with other ingredients.
Please follow the WHO guidelines, the following are 2 basic formulas extracted from the WHO PDF guidelines, summarized as follows:
Formula 1:
Ethanol 96%
Hydrogen peroxide 3%
Glycerin 98%
Sterile distilled water or boiled cold water
Formula 2:
Isopropyl alcohol 99.8%
Hydrogen peroxide 3%
Glycerin 98%
Sterile distilled water or boiled cold water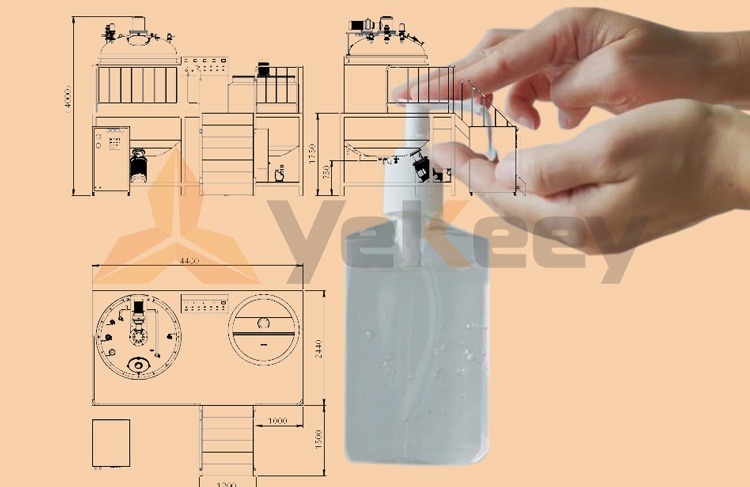 The configuration of the external-circulation vacuum homogenizing emulsifier used in the production equipment of mixing and gel hand sanitizer is as follows:
Explosion-proof motor to prevent fire hazard
Fully enclosed vacuum stirring to prevent contamination
Bottom

high-shear homogenizer

, high-torque pumping circulation shearing dispersion
Easily deal with high viscosity (up to 10000 cPs) hand sanitizer or gel
Wall scraping two-way stirring paddle
Ergonomic design, convenient and simple operation
Ideal for industrial mass production, high output, and stable production
YeKeey is equipped with an external circulation vacuum homogenizing emulsifier, which is very suitable for mixing gel hand sanitizer. External circulation vacuum homogenizing emulsifier is a kind of industrial mass production equipment, which is a very effective solution with high-cost performance.